During the pandemic, people are sitting at home at their PCs and a lot of things are only digital. It is therefore exciting to measure how high the leading Swiss companies rank in the attention of Swiss online users. For this purpose, the digital market researchers at ArgYou AG took two measurements of search volume within one week. It turns out that the trend for some shows a strong upward trend, for others the search demand rather decreases. While the search volume of Die Mobiliar, Landi and Alcon increased the most, Credit Suisse, Denner and Swiss Life are losing the most digital attention.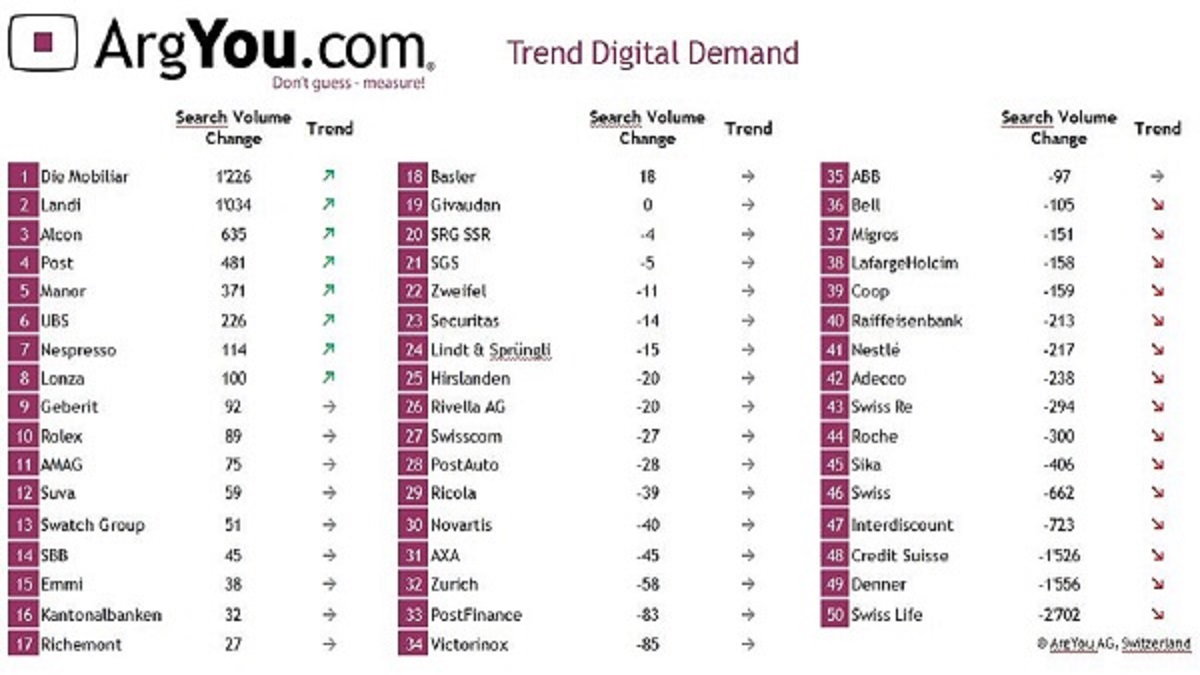 For each company in the ranking, a keyword was defined, which was measured. The two measurements are one week apart and refer to the average search query of the last 30 days. The active search entries of Swiss Internet users on all channels (search engines, social media, e-shops) are measured, resulting in a trend per company.
The ranking ranks the companies according to the change in search volume during one week. It only reflects a snapshot and does not reflect the long-term view of the change. On the other hand, according to ArgYou CEO Christoph Glauser, user numbers are higher than ever before because many people still have no choice but to work online and in their home offices. While some companies are experiencing major changes in digital attention, for the majority of companies the trend remains relatively stable and digital search demand changes little in the short term. Changes in search demand often also have to do with changes in media coverage or changes in user perceptions.
ArgYou supports many companies with digital projects and campaigns right from the start, so that the effect on the Internet also works directly. For this purpose, the average search volume on 14,103 channels worldwide in 203 countries and 30 languages is systematically measured in order to increase the hit rate for the content used.